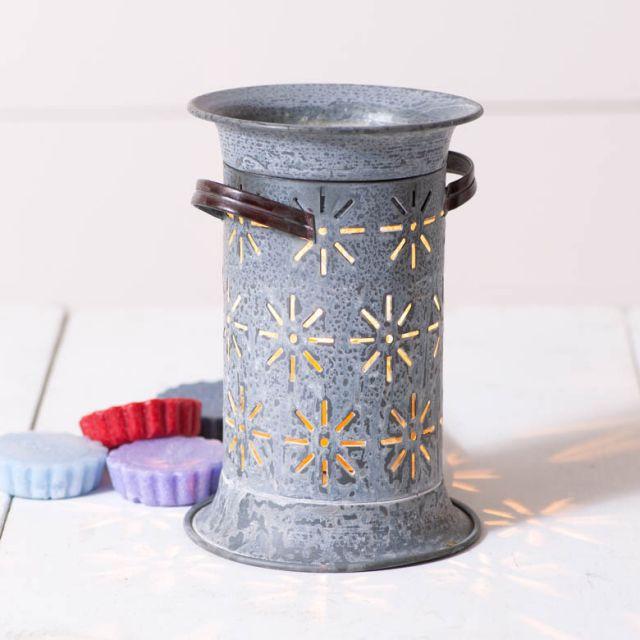 Starburst Wax Melter in Weathered Zinc
Simply put a wax scent in the top and in a few minutes the bulb will melt it producing a wonderful scent while creating a soft accent light. Perfect in kitchens, bedrooms, powder rooms, and almost any room in your home!
Wired with one E12/Candelabra socket, 40 watts max. Has 6-ft cord and line switch. Bulb included. Measures 7" high, 5" wide...
Our sprays are an easy way to freshen up any space, be it at home, in the car, or traveling on the road. Just a fews sprays and your space will be smelling of your favorite scent. Available in most of our scents. Long lasting, non-Toxic, safe for linens, towels, and bedding. Always test an inconspicuous area before use.
Using wax melts or tarts is a great flameless way to test scents. Wax melters or tart warmers come in a variety of shapes, styles, and designs. Make sure to use a warmer or burner specifically designed for wax melts. We offer
farmhouse styled warmers in our accessories category. Simply break off
1-2 squares of wax 
and place in your warmer. Scent will vary due to room size and warmer specifications.
  CANDLE CARE AND SAFETY INSTRUCTIONS
When lighting a soy candle for the first time, trim your wick to 1/4" in length, light the wick and allow the wax to melt all the way to the sides of the container. Depending on the container size, this could take approximately 3-4 hours. Failure to do this can limit the life of your new soy candle and limit performance.

Remember to trim your wick to 1/4" every time you light your candle and again at 3 hour intervals. This will ensure a long lasting candle,

 

maximize scent release, minimize sooting and remove any mushrooming on the end of the wick.
Extinguish your candle by dipping the wick into the melted wax and straighten. This will help keep the wick from smoking and help when re-lighting.

 

Never leave your candle burning unattended or near combustible materials.

 Keep away from children and pets.

Burn at no longer than 4 hour intervals. Discard the candle when there is 1/4" of wax left in the bottom of the container. The jar may be reused by removing excess wax.

Soy is all natural and will have a lighter scent throw than a manufactured paraffin candle. 
Love the look and size of the tart warmer.
I prefer the metal over a ceramic warmer and this one is perfect.
Love the look and size of the tart warmer.
I prefer the metal over a ceramic warmer and this one is perfect.